Our late founder, Mr Koh Swee Lai, grew up in a kampong in Yio Chu Kang back in the 1940s. Often eating stale and ugly produce from his family-owned provision shop to help his father minimise losses from unsellable goods, the concept of freshness and minimising food waste became deeply ingrained in him.
After obtaining his driving license, an 18-year-old Mr Koh began transporting goods for his father's trading and transport company daily, travelling along the Singapore River from Boat Quay.

It was then that he witnessed how intermediaries increase commodity prices and noticed how little the person at the bottom of the chain received. A keen learner through observation, he proposed to the family to start a feed mill to grind the corn and earn a better margin.
With the success of that endeavour, Swee Lai and his brothers then integrated pig farming into the family business in the 1970s for even higher returns.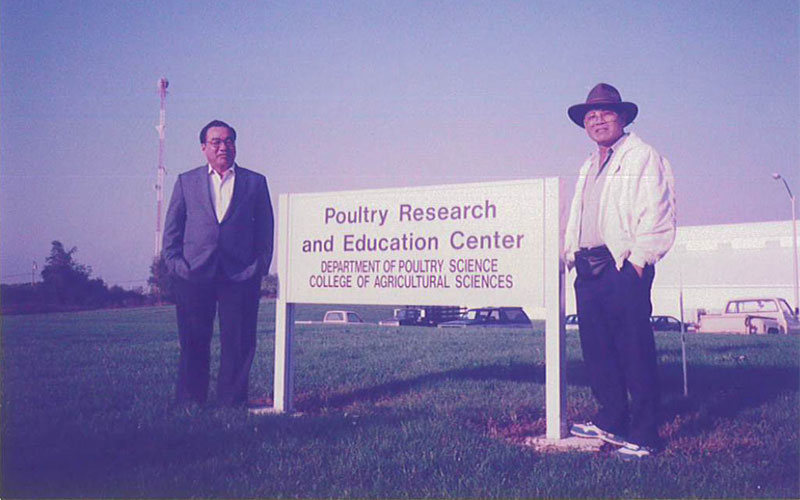 When pig farming was phased out in Singapore in the 1980s, the family decided to switch to egg farming. To prepare for this transition, Mr Koh made multiple trips to the USA and Europe to learn from overseas farm operations.At this point, Singapore had taken a strategic interest to support the consolidation and modernisation of farming to ensure cost efficiencies by attracting investments in high-tech farming in the agrotechnology parks.
Fascinated with the farm technology and egg marketing he saw overseas and armed with this new knowledge, he took a leap of faith, mortgaged his house, and took a loan under a special interest rate through the Economic Development Board (EDB) to establish the first high tech layer farm in South-East Asia at Sungei Tengah in 1987. The farm took two years to develop from scratch and was officially opened in 1989.
A firm believer and early adopter in the branding and advertising of eggs, Mr. Koh set the trend for branding eggs and promoting a farmer's produce directly to consumers in Singapore. He had a wealth of experience in feed milling, high confidence in the quality of his egg produce, and even set up an in-house delivery team to ensure eggs freshness. Furthermore, he wanted consumers to be able to get the eggs fresh from the farm.
Mr Koh then made another bold move – in 1999, he upgraded the hens' coops from two-tier open-housed systems to multi-tiered fully enclosed environmental controlled housed systems, aiming to triple production without increasing the land required.
As a trendsetter in the farming industry, he cinched an award for the Top 12 Entrepreneurs of the Year in the 12th Rotary-ASME Entrepreneur of the Year Award in 2000.
A new challenge soon arose as residents living near Sungei Tengah began complaining of odour nuisance. This led to the closure of three poultry farms, all of which chose to accept the ex gratia payment from the government rather than spend out-of-pocket to invest in odour control measures.
Mr Koh, however, persevered and pumped in more expenses to meet the new requirements. Seng Choon Farm went on to win an award at the inaugural ASME Lianhe Zaobao Singapore Promising Brand Award in 2002.
In response to the proximity to the residential area and the expectations of residents continuing to pose challenges, Mr Koh managed to secure an alternative site in Lim Chu Kang in 2006.
Developing the new site amid the high-cost construction of sand, metal, and all other construction materials against the timeline of an expiring lease at the old site was challenging, Mr Koh saw this as an opportunity for him to step back and let the next generation hone their skills through the construction and development of the new site.
Overcoming many hurdles and crises, he had brought the company to where it stands today. Seng Choon Farm is a Singaporean brand built from Mr Koh's relentless pursue of his belief in delivering the best in a commodity as simple as the egg. We shall carry on this legacy of a farmer's pride in putting in our best efforts and delivering top quality and freshness to our consumers.